About AU Dryers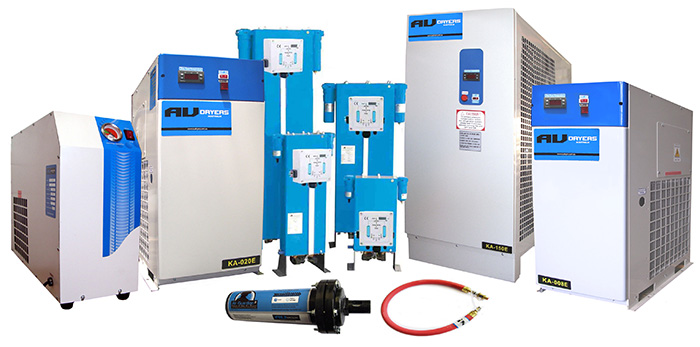 Refrigerated Air Dryer – KA-R Series
In compressed air systems, to prevent corrosion from condensed water is a very important issue. In order to deal with the task, the preferred method is to install the Air Dryer. With this type of equipment, huge volumes, high pressure losses, complex piping designs and corrosion resistance in traditional types of heat exchangers, are the main problems which engineers are trying to overcome.
A new approach to small and medium capacity air dryers has led AU Dryers to develop a highly efficient twin heat exchanger air dryer. As usual, AU Dryers use a stainless steel heat exchanger, not just for corrosion resistance but also mechanical strength.
These new heat exchangers use two systems. Firstly, a Turbo Tube primary heat exchanger pre-cools the air via the out-going cold air. Large surface areas are engineered by using spiral flow paths, maximising heat exchange potential.
Secondary heat exchange of pre-cooled air is via a Cross-Wave Fin type exchanger. This heat exchanger uses refrigerant gas tubes and special wave fin plates, to not only transfer cold from the refrigerant, but also to efficiently separate and drain water.
All of the above is housed in a stainless steel shell for maximum durability.
A unique design and only available from Quantum Air Compressors Pty Ltd.
Twin heat exchangers in stainless steel.
Up to 50% energy reduction and very low pressure drop.
Up to 30% less space.
Ni (nickel plated) copper tubes for corrosion protection in refrigerant/compressed air system.
Over 40ºC ambient capable.
Download Brochure